Aliskiren is a type of medicine called a direct renin inhibitor that can be used to lower high blood pressure.
There is only one available and the brand name is Rasilez. It works mainly by allowing the blood vessels to relax and widen, so the blood has more space to flow through.
How does aliskiren work?
Aliskiren works by blocking the effects of a chemical in the body called renin. Renin is involved in producing a hormone called angiotensin II, which causes the muscles in your blood vessel walls to contract, making the blood vessels narrower. This makes it harder for blood to pass through, raising your blood pressure.
Aliskiren lowers the amount of angiotensin in your body, allowing your blood vessels to relax and widen, lowering your blood pressure.
Who can take aliskiren?
If you have high blood pressure, your doctor or nurse might suggest you take medicines to lower it. It can take some trial and error to find the right one or the right combination.
Aliskiren is usually used if other drugs are not working well or are not suitable for you. For example, if you have side effects, have other health problems or are taking certain medications. They can also be used alongside other blood pressure medications. You would normally only be given aliskiren if you are not already taking an ACE inhibitor or an angiotensin receptor blocker (ARB).
When is aliskiren not suitable?
If you are pregnant, breastfeeding or planning a pregnancy, you should not be given aliskiren.
If you have other health conditions or are taking certain other medications, aliskiren might not be suitable for you or you will need to be closely monitored. For example, if you have kidney or liver problems, diabetes, hyperkalaemia (high potassium levels in your blood), heart failure or angioedema (swollen hands and feet).
Your doctor will consider your overall health and any treatments you're having before giving you any new medicines.
Does aliskiren have side-effects?
All medicines can have side effects, including blood pressure medicines. Aliskiren is a relatively new medicine and not as much is known about its possible side-effects. But it's likely you won't have any side effects at all, or you might have some that are minor and don't cause you too many problems.
If you have side effects which don't improve and are affecting your day-to-day life, you should be able to try a lower dose or a different medicine.
The most common side effect of aliskiren is diarrhoea. Other less common ones include:
headache
dizziness
a sudden drop in blood pressure when you go from lying ­or sitting down to standing up (postural hypotension)
inflammation of the nasal passages
low blood pressure
skin rash
swelling of the limbs, face or throat. This is an allergic reaction and it's rare. If your breathing is affected stop taking your medication and contact your doctor.
The leaflet that comes with your medicine will have a full list of possible side effects.
Taking aliskiren
You take aliskiren as a tablet, once a day.
Check with your doctor or pharmacist before taking any other medicines at the same time as aliskiren, as they can interact, including medicines you buy over the counter such as painkillers and anti-inflammatories.
If you start taking high blood pressure medicines, it's likely you will need to keep taking them for the long term. If your blood pressure stays under control for several years, you might be able to take a lower dose or stop taking them altogether.
It's important that you don't simply stop taking them because your blood pressure will quickly rise again. Always let your doctor, nurse or pharmacist know if you're struggling because there could be other options you can try.
Read more
Non-standard medicines for high blood pressure information sheet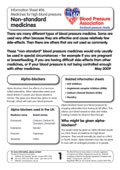 Download our Non-standard medicines information sheet [PDF 23,510KB].