Measure. Modify. Manage.
Know Your Numbers! Week takes on high blood pressure in 2022
Published: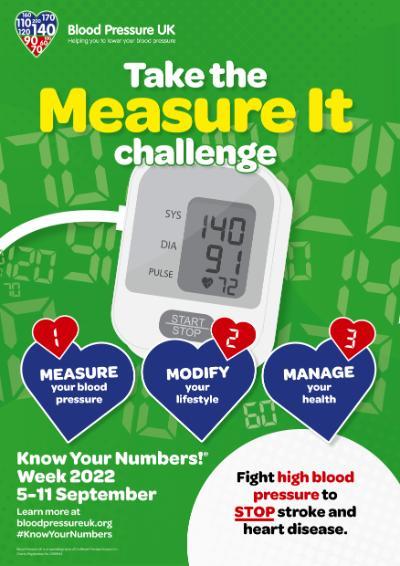 This September, we encouraged all UK adults to Know Their Numbers! to prevent heart attacks and strokes. We took to the streets with blood pressure checks and to the airwaves with interviews to encourage all adults to start measuring their blood pressure at home and making healthy changes to their lifestyle.
High blood pressure can lead to heart attacks, strokes and other diseases but it usually has no symptoms, which is why every year our awareness-raising campaign highlights why it's so important to get a check.


The theme was Measure. Modify. Manage:
Measure your blood pressure – Home monitoring is an easy and reliable way to Know Your Numbers! without a trip to the GP.
Modify your lifestyle – Eating less salt is one of the simplest ways to lower your blood pressure and cutting out just one gram a day on average would mean 6,000 fewer deaths from strokes and heart attacks each year in the UK.
Manage your health – Keeping an eye on your numbers, making changes to your lifestyle and taking blood pressure medicines if you need to will help you stay healthy for life.


Over half of Brits don't Know Their Numbers!
Our recent opinion poll[1] showed that:
whilst nearly half (45%) of UK adults have had their blood pressure checked in the last year…
…over half (56%) don't know their blood pressure numbers and could be living with undiagnosed high blood pressure
and 34% think knowing their blood pressure numbers is not important.
Hemini Bharadia, Marketing Manager for Blood Pressure UK explains: "Home blood pressure monitoring is an effective and inexpensive way to manage your blood pressure and the evidence behind it continues to get stronger. It takes the pressure off the NHS at the same time, and it really can save lives."




New for 2022: The blood pressure road show!
For the first time, Know Your Numbers! week brought free blood pressure checks to the high street with the blood pressure roadshow, organised by Kinetik Wellbeing in part association with Blood Pressure UK. Thousands of people came out for a check in five cities – Leeds, Manchester, Liverpool, Birmingham and London – and many felt grateful to have somewhere to go for a check while it's harder to see the GP.
Hemini Bharadia said: "A whopping 2,900 blood pressure checks were carried out during the week in the road show. That's 2,900 more people that now Know Their Numbers!."



Acting local
Local councils, NHS Integrated Care Systems, hospitals, libraries and universities spread the word online while some hospitals and councils organised stands offering free blood pressure checks in person.
From left: Councillor Rachel Massey had her blood pressure checked at Rochdale Borough Council's stand. Parish Nursing UK organised blood pressure checks for farmers in Warwickshire leading to new diagnosed and treatment. A blood pressure stand attracted passersby on Orpington High Street.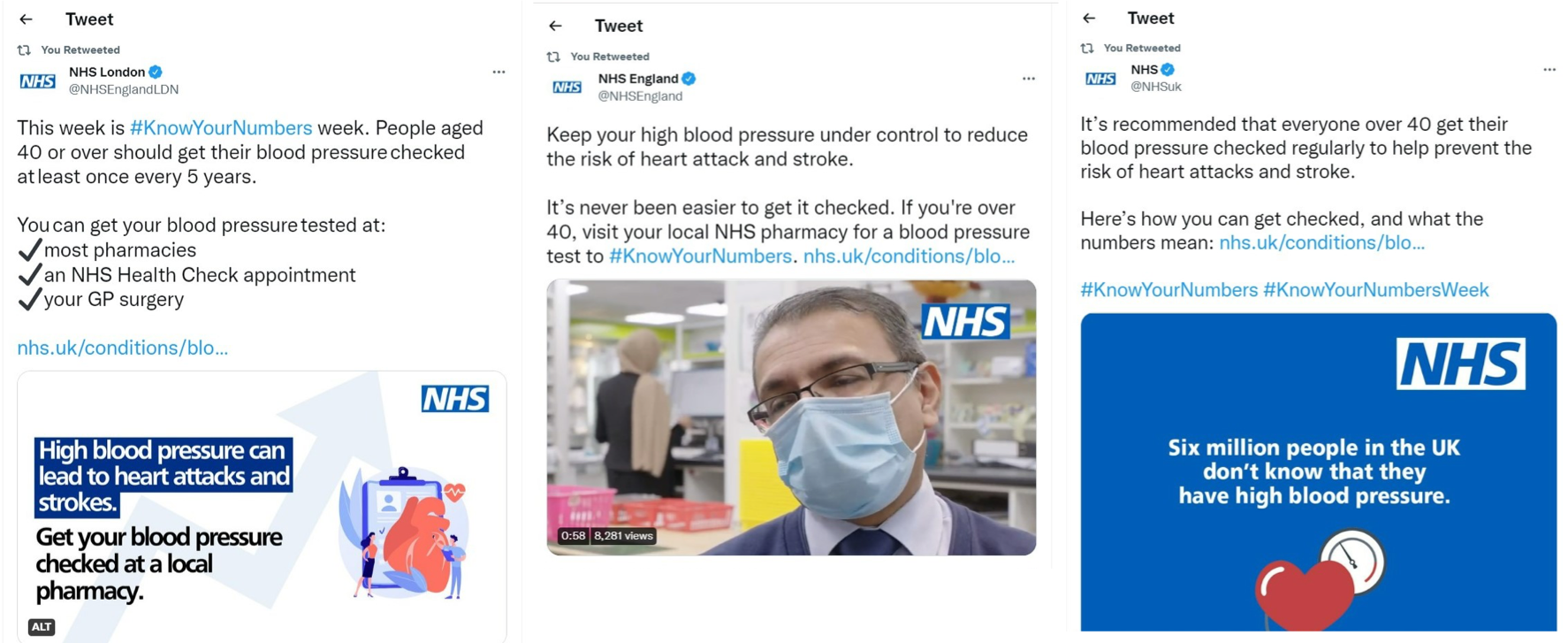 Twitter was busy this year
NHS London, NHS England and NHS UK all got busy on twitter, with further support from charities, public figures and health bodies across the UK, including London Ambulance, St John Ambulance, Yorkshire Ambulance, The Stroke Association, Professor Jamie Waterall – Deputy Chief Nurse at the Office for Health Improvement & Disparities, Dr Shahed Ahmad – NHS England and NHS Improvement Medical Director in the South East.
Lots of health professionals across the UK also tweeted messages of support and videos to support the campaign.

The press got behind the campaign
We made headlines in national and regional news with coverage in the Independent and the Daily Express and 130 regional news providers. Our Chairman Professor Graham MacGregor gave interviews for London Live TV and BBC Radio in Leeds, Manchester, Merseyside, West Midlands and Sheffield.


"So much interest and so many questions"
Our Hypertension Nurse Specialist, Nirmala Markandu, offered one-to-one support at two community group events in New Maldon, South London: the Healthy Mind Community Development programme and Elders Empowering Programme. Both are attended by South Asian communities who are often harder to reach but are at higher risk of raised blood pressure.
The groups meet weekly for exercise and activities such as quizzes, games and singing, and mingle over coffee and lunch. Nirmala had queues for blood pressure checks and to talk about blood pressure and associated illnesses such as diabetes. She found several people with blood pressure so high it needed urgent treatment – some were over 200mmHg for the top number – which could well have saved their lives, and many more with raised numbers.
Nirmala was able to address a lot of unanswered questions: "After spending 2 hours with them I really felt like I was running a hypertension clinic in hospital again – so much interest and so many questions. The leaflets were a hit and there's talk of a follow up session in the new year."
The chair of the Elders Empowering Programme said "all our members thoroughly enjoyed having you and Knowing Their Numbers!" and the programme coordinator for Healthy Mind said "We were shocked to see that two had very high readings but now they are about to see their nurse/doctor to have a check-up and consultation to do something about it. We were very happy to have our questions answered and explained in Tamil as well."
Both groups are now interested in running more events and Kingston Council have expressed an interest in involving more community groups in blood pressure awareness.

NHS South East went above and beyond
NHS England South East has worked closely with us this year to support Know Your Numbers, giving extra regional support through its Cardio Vascular programme.
They used the theme of Measure. Modify. Manage. as the basis of a series of messages across social media, using paid adverts in Facebook and Google to give the campaign an extra push to reach people at risk in the South East.
This follows the success of their own #livingwithhypertension campaign in the Spring, encouraging people to get their blood pressure checked in a brilliant series of light hearted but informative videos from health professionals. They received over 55 000 extra visits to their campaign page with nearly 200 000 views from new viewers. They featured clinicians from different ethnic backgrounds to convey that high blood pressure disproportionately affects some communities more than others, and included specific messages for ethnic minority audiences and underserved groups.
Dr Mohit Sharma, Consultant in public health who leads on cardiovascular disease prevention for NHS England South East told us: "High Blood pressure is one of the most common health conditions in the UK, yet most people don't even know they may have it. The first sign could be something as serious as a heart attack or stroke.
"It is a priority for us to regain the successes in raising awareness and diagnosing those at risk from Hypertension which we achieved in the region before the pandemic."
Read about tackling high blood pressure in the UK from Dr Mohit Sharma.

[1] The research was conducted by Censuswide of 2,016 nationally representative sample. Between 10.08.2022-12.08.2022. Censuswide abide by and employ members of the Market Research Society which is based on the ESOMAR principles