Help save lives with the relaunched Act F.A.S.T. campaign
The Act F.A.S.T. campaign returns, urging people to call 999 immediately at any sign of a stroke – can you help spread the message?
Published:
On 8 March 2021, Public Health England relaunched the national Act F.A.S.T. stroke campaign. It is supported by the Stroke Association and will run until the end of May. Blood Pressure UK are getting behind the campaign and you can download resources to help us spread the Act F.A.S.T message.
The latest data show a 12% drop in hospital attendances for stroke during the lockdown period of the pandemic, between March – April 2020 [1].
With current national restrictions still in place, there's an even greater need for the Act F.A.S.T. campaign. The aim is to remind people of the signs and symptoms of stroke and the need to act F.A.S.T.
Call 999 or go to hospital straight away if you notice any single one of the signs in yourself or others – including during the pandemic.
Think and Act F.A.S.T.

When Stroke Strikes Act F.A.S.T. Call 999


There are more than 100,000 incidences of stroke each year in the UK, causing around 34,000 deaths. [2] Black people are twice as likely to have a stroke than white people, on average, and people of Black African, Black Caribbean and South Asian descent in the UK have strokes at a younger age.
A stroke is known as a 'brain attack'. It is a medical emergency that requires immediate attention and every minute is vital. Early treatment not only saves lives but results in a greater chance of a better recovery, as well as a likely reduction in permanent disability from stroke. That is why calling 999 is so crucial. An ambulance can give stroke patients those extra precious minutes, getting them faster and more specialist treatment through their knowledge of the nearest Hyper Acute Stroke Unit.
Whether you spot the signs in yourself, a friend, loved one or even a stranger, acting F.A.S.T saves lives and gives stroke patients their best chance at recovery and could reduce the long-term effects.
The campaign includes TV, video on demand, radio, social media and is supported by partnerships and PR.
Support the campaign
Download these resources with our Blood Pressure UK logo to get behind the campaign. You can also forward these on to friends, family and colleagues: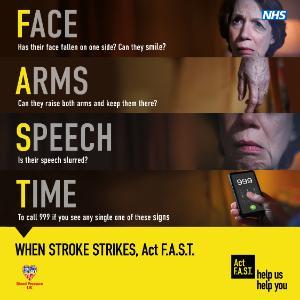 Find out your blood pressure to help prevent stroke
High blood pressure is a major cause of stroke so getting a blood pressure check, and treatment if you need it, can help to prevent stroke. You can also monitor your blood pressure at home and we have created simple guides to help you.
Hemini Bharadia, Campaign Manager at Blood Pressure UK "High blood pressure is the single biggest risk factor for stroke, but half of people with high blood pressure are not diagnosed or receiving treatment. We are supporting the Act F.A.S.T Stroke campaign because this pandemic has highlighted a significant fall in the number of people having their blood pressure measured which puts them at an increased risk of stroke. Taking your blood pressure measurements at home is a great way to know if you might be at risk, knowing your numbers could save your life."
Learn more about high blood pressure and stroke.
[1] Kings College London, An insight into stroke care during COVID-19 webinar, Presentation slides
[2] Stroke Association 2018: The State of the Nation https://www.stroke.org.uk/sites/default/files/state_of_the_nation_2018.pdf