Frances speaks out about living with the effects of a stroke to encourage others to take care of their blood pressure.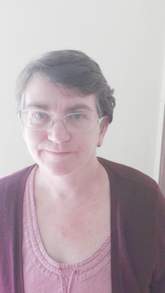 I was relieved not to have to take medications
My stroke was purely caused by high blood pressure. It was on 31 May 2016. I have since had a CT angiogram to check whether there was any underlying abnormality but there was nothing else amiss.
I had had some unrelated investigations which showed that my blood pressure was "all over the place", but 24-hour monitoring led my GP to conclude that my overall blood pressure was "high normal". I don't remember the exact figures, but I do remember that my very last reading at the surgery had a top (systolic) reading of 200mmHg.
At the time, I was pleased that my GP wasn't pushing me to take medication, which I saw as the first step towards long-term health anxiety. I certainly learned my lesson! It's hard to shake the thought that had he pushed me to take medication at that time I wouldn't be in the situation I am now.
The effects of my stroke
The stroke knocked out my right side basal ganglia, which means that although I didn't lose my speech, I lost my movement on the left-hand side. A year on, I am able to walk, albeit unsteadily with a stick, and it is very tiring. I have no useful voluntary movement in my left arm or hand, which really troubles me, though I am doing everything I can to get it started on the road to recovery. I am back at work but have had to take on a very different role, and I'm having to learn to drive from scratch all over again.
The impact on my life has been dramatic, as it is for everybody. I hadn't realised how much pleasure I depended on from very simple practical activities in life such as my gardening and cooking, decorating, and even doing the laundry!
Even though I am doing what I can to be involved with these it's simply not the same when you are so dependent and can do so little for yourself. In February, my first grandchild arrived and she is lovely but it was terrible to find myself unable to give her a proper cuddle and get to know her in the way I would have hoped.
Encouraging others
I was extremely active before, perhaps too active – I had a heavy work schedule and lots of different problems to juggle. Every time I come across someone who appears to be 'overdoing it' I find myself lecturing them about the dangers of uncontrolled blood pressure. I have managed to get several people to take more care and more notice of their blood pressure. Had I known that just by taking a couple of pills a day I could more or less remove the risk of this terrible thing I would have gladly done so.
One phrase that haunts me is when people talk of being "comfortable in their own skin" as I feel this will never apply to me for the rest of my life. I also hate the fact that I am robbed of so many good memories, as I can't bear to think about all the things I will never be able to do again.
I am speaking out about my experience in the hope it will prevent someone else from going through the same horrible experience.
Frances Potter, 50
Share your story
Sharing your story lets others know they're not alone, and could help them to live well with high blood pressure.