It was an early start for Blood Pressure UK media case study Rosemary Crump when she welcomed Dr Hilary Jones into her home.
The GMTV filmcrew and Dr Hilary Jones were in her home to talk to her about the dangers of high blood pressure.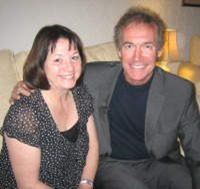 "I had a super day when GMTV came to my house on 15 March 2010. It all kicked off when Blood Pressure UK rang to ask if I would like to appear on GMTV to answer a few questions on blood pressure. I said I would, but felt a bit apprehensive once I had agreed.
"The GMTV producer and script writer came up from London to see me the evening before, to run through what would happen the following morning – starting at 5am! By the time she left I felt so nervous, I didn't sleep a wink that night, going over and over what would happen the next day.
"I needn't have been so nervous (my blood pressure must have been sky high!) because all the GMTV crew and Dr Hilary were so easy to get on with, laughing and joking. I felt I had known them all my life.
"A great experience"
"Dr Hilary did a few recordings with me including two interviews, and before the last one we all had breakfast together. It was such a great experience and so interesting watching Dr Hilary doing other broadcasts in between my interview slots.
"I hope that, after seeing the interview, if only one person went to the doctors to get their blood pressure checked, it may save them from having a heart attack, stroke or even save their life. How brilliant that would be!
"I enjoyed every minute of it and I would love to do it again. My friends were so jealous that Dr Hilary Jones had been in my lounge with me! So thank you Blood Pressure UK for giving me such a brilliant opportunity."
Share your story
Sharing your story lets others know they're not alone, and could help them to live well with high blood pressure.