Jon appreciates how lucky he's been to have made a full recovery after his stroke aged just 39. Now, he runs 10K races and takes his blood pressure monitor into work for his colleagues.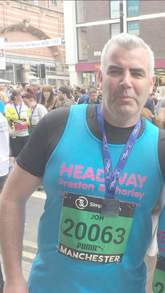 A very difficult time
I was 39 when I had my stroke on 15th December 2014. With it being so close to Christmas and having two young children, it was a very difficult time for my family.
My stroke was caused by high blood pressure. Before this I never really got it checked. I was overweight and didn't exercise, I worked away with work a lot and generally never looked after myself. I spent a week in hospital and then a further 6 months off work recovering.
Taking better care of myself, and others
The whole incident has completely changed my life. I'm now exercising every day, either in the gym or swimming, or running 10k races. I've lost lots of weight and now my blood pressure is controlled.
I appreciate how lucky I've been, as I've made a full recovery, but I know it could have been a lot worse. On the day it happened I was at work, only two minutes from the local hospital, so I was treated very quickly. I was also put on a trial drug (T2).
In a strange way, having a stroke really changed my life for the better, I'm fitter and healthier than I have been for 20 years! I advocate people having their blood pressure checked and I regularly bring my monitor into work.
Jon Bowler, 41, from Lancashire
Share your story
Sharing your story lets others know they're not alone, and could help them to live well with high blood pressure.