Despite having half a lung removed at 19, Rebecca ran the 2015 Bath Half Marathon in 1 hour and 56 minutes, raising £2,000 in memory of her dad.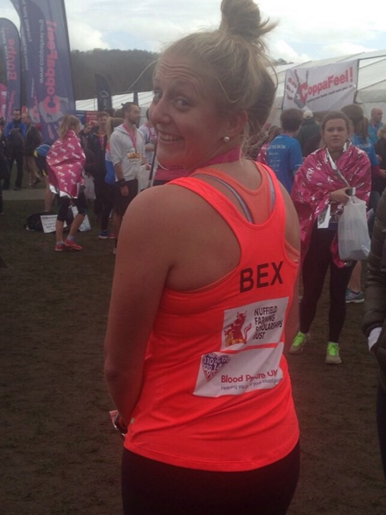 Why I'm raising funds for Blood Pressure UK
My Dad died very unexpectedly in July 2013 at just 47 years old. The reason behind this was high blood pressure which eventually led to heart failure. He was aware he had high blood pressure, but not of the effect it was having on his body.
I have chosen to raise funds for Blood Pressure UK to raise awareness of the importance of everyone knowing their blood pressure numbers and understanding the need to take action to keep them to a healthy level in to protect their health.
Each year, Blood Pressure UK runs an awareness campaign urging everyone to know their blood pressure numbers. I would love everyone who donates to me to "know their numbers!". It will only take five minutes to get a check but could change and prolong their life.
When I was 19 I had half a lung removed, so I never really thought there would be much of a chance of me taking part in challenges like this, but it just goes to show that if I can do it, anyone can.
This charity's work is so important that I urge anyone thinking of picking a charity to run for in future events, they consider Blood Pressure UK.
Rebecca Darke, 24, Bath.
Share your story
Sharing your story lets others know they're not alone, and could help them to live well with high blood pressure.