The healthy-looking snacks that are sabotaging our health
Corn and pulse-based snacks with a 'health halo' of nutritional claims are saltier than seawater
Published:
A new survey from Action on Salt has found that snacks made from pulses including corn can contain worrying amounts of salt despite their healthy-looking packaging. Health claims such as 'vegan', 'less fat' and 'no added preservatives' give the products a 'health halo' when in reality they could be raising our blood pressure. Just one 45g serving of the crunchy corn snack Love Corn in Salt & Vinegar or Habanero Chilli flavour contains more salt than 3.5 bags of Walkers Ready Salted crisps.
The survey was carried out as part of Salt Awareness Week the annual campaign that puts a spotlight on the salt hidden in manufactured food products. Salt raises our blood pressure, leading to heart disease and stroke. Action on Salt are now calling for restrictions on the use of misleading nutrition claims on foods which are high in fat, salt and sugar. They're also calling for the Government to appoint a successor to Public Health England to help bring down salt levels across food products available in the UK.
The survey
Action on Salt surveyed 119 pulse-based snacks which included dried or roasted pulses, and processed pulse snacks including lentil curls and chickpea chips and puffs.
The survey found that pulse-based snacks tend to be lower in fat, saturated fat and calories and higher in fibre than standard crisps and flavoured nuts. But four in ten products (43%) are high in salt, containing more than 1.5g per 100g.
The saltiest product surveyed was Eat Real Hummus Chilli & Lemon Flavoured Chips, with 3.6g of salt per 100g and over 1g salt in a single suggested serving (28g). That's more salt than two bags of McDonald's small French fries.
Although many products are high in salt, there was a wide variation in salt content between the snack options showing that they can easily be made with less salt.
Table 1. Examples of products higher and lower in salt for each snack sub-category Kat can I use the picture of the table?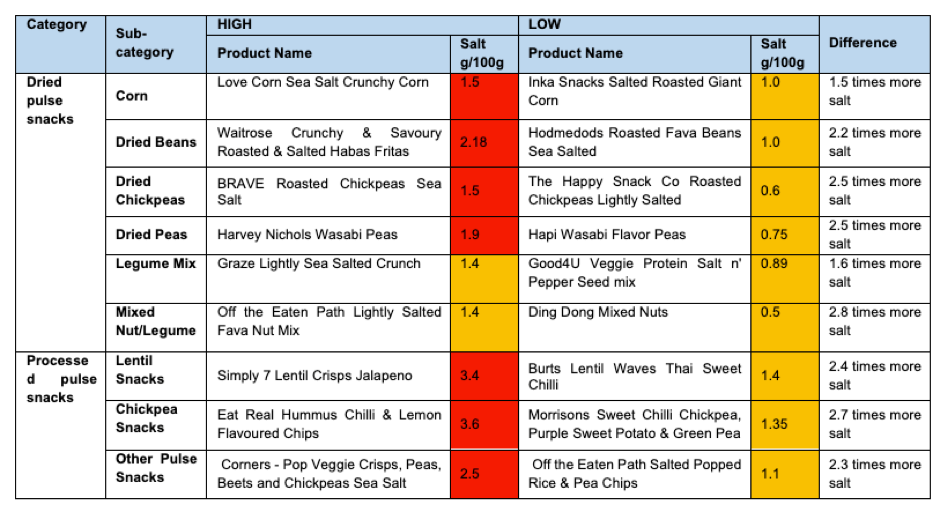 Nutritional labelling and the 'health halo'
Most products surveyed did not have colour coded nutrition information on front of the packs. If they had, more than half (55%) would have a red light for fat, salt and/or sugar.
Most products in fact featured misleading nutrition claims which give the product what some experts call a 'health halo' – giving the impression that the product is healthy, potentially distracting shoppers from checking the ingredients more thoroughly.
In fact, eight out of ten snacks surveyed included a nutrition-based health claim such as 'no added sugar' or 'less fat' and almost all product included other health claims such as 'Gluten free', 'Vegan', 'All natural' and 'No artificial preservatives'.
A third of snacks also stated that they use sea salt. This is often perceived as healthier than regular table salt when in reality it has exactly the same effect on blood pressure because it contains the same amount of sodium.
Hemini Bharadia, Marketing Manager at Blood Pressure UK says: "The way products are marketed matters. People looking to make healthier choices will notice claims such as 'low fat' and 'vegan' but won't necessarily spot that the product is far higher in salt that a packet of crisps. Claims on packages need to be restricted to properly reflect the impact of the food on our health. In the meantime, check the labels and keep your salt intake throughout the day to less than 6 grams."
Read more on the healthy snacks survey from Action on Salt
View the technical report: Salt Content in Pulse-based Snacks [PDF 473KB]