Know Your Numbers! Week 2019 takes over the airwaves
We had so much support for Know Your Numbers! Week this year we almost couldn't believe it
Published:
We made radio appearances, news headlines, and even featured on Arsenal football club's website. Take a look at the incredible events giving free blood pressure checks to those who don't know their numbers. We can't say thank you enough.

A week of free blood pressure checks
Every September for Know Your Numbers! Week, volunteers host pop up venues called Pressure Stations' in public places, giving free blood pressure checks and health advice to passers-by. This year we were overwhelmed with support from volunteers, helping to prevent heart attacks and strokes.
There were far too many to mention, but thank you to all the pharmacies, PHE teams, CCG's, NHS Trusts, libraries, shopping centres and places of worship who took part.
Chippenham Pit Stop summed up perfectly just how these events make a difference:
"We had the pleasure of seeing a young man in his 20's who had unbelievably high BP this time last year. The check last year shocked him into action and he signed up for a healthy living course. He has given up smoking, hugely reduced a drinking habit and sought help with mental health issues. He has undertaken a cookery course and is now seeking employment.
"He said that the fact we had taken his blood pressure last year and made him realise the harm he was causing had given him a future. His Dad was with him and apparently the whole family has got behind him, and other members have given up smoking – so the snowball grows!!"
We trended on twitter for the third year in a row
There were so many enthusiastic, informative and supportive tweets about #KnowYourNumbers, they reached an unbelievable 52.8K people!
NHS England, NHS UK, Stroke Association, ME Association and Public Health England's prevention lead Jamie Waterall all got behind us, to name just a few. We especially loved Barts Health Archives and Museums tweet about their antique sphygmomanometer.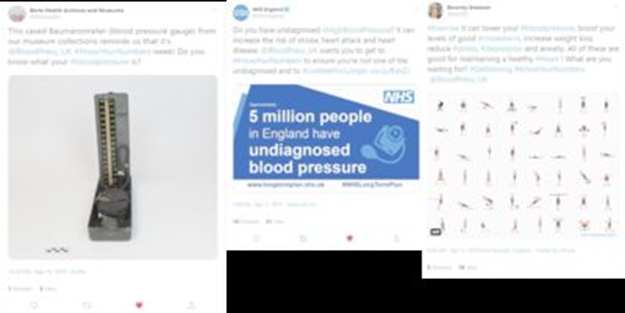 Half a million people viewed our website
Our blood pressure chart was a favourite as ever.
Making (radio)waves
Our CEO Katharine Jenner joined veteran presenter Eamonn Holmes for a delightful interview at talkRADIO. Eamon lives with high blood pressure, and they discussed why KYN! Week is so important and how to look after your blood pressure – including Eamonn's daily dose of beetroot! You can listen here.
Working for less salt in food at wholesale giant Bidfood
LoSalt got the week got off to a flying start with a well-being event at food wholesalers, Bidfood. As one of the largest wholesalers in the UK, supplying hospitals, hotels, schools, pubs and restaurants, they're ideal customers when it comes to lowering salt in food to lower blood pressure.

LoSalt explained exactly why salt reduction is so important and let them know about their low sodium alternative seasoning. And we were on hand to give free blood pressure checks to the Bidfood staff.
We featured on the Arsenal Website and we're auctioning an Arsenal T-shirt!
We featured on the Arsenal Football Club page of gladiatorfootball.co.uk with information about KYN week. The promotion is helping us to reach a younger audience and reach more men, who can be less engaged when it comes to talking about health.
We also have an Arsenal home T-Shirt to auction. Keep an eye on our website and social media for details.
A sunrise row on the River Thames
Cheval Collection teamed up with Milo And The Bull boutique rowing studio, and nutrition and lifestyle expert Emma Broome of LIFE Acrobat, to host a sponsored rowing challenge to raise money and awareness for us.
With two WaterRower machines on the terrace of one of their luxury residences on the Thames, the staff and residents rowed a massive 56km - more than 6.5 times the distance of The Boat Race!

Why do we do it?
High blood pressure is known as the silent killer because it has no symptoms, until you have a heart attack or stroke. It's also incredibly common – nearly 6 million adults in the UK have high blood pressure and don't know it.
The only way to Know Your Numbers! is to get a blood pressure test. That's why, every year, we do everything we can to reach those who don't know theirs.
This year our theme was Live well for longer, as people live such long lives, but not necessarily in good health. More and more young adults have high or pre-high blood pressure and are experiencing the disastrous consequences in midlife, and we want to put an end to this unnecessary suffering.
Find out more about this year's campaign and why we did it. It was a story that made headlines.
Hemini Bharadia, Marketing Manager at Blood Pressure UK says:
"Thank you so much to everybody who took part this year. Whether you went along to get your blood pressure checked, if you hosted an event, or volunteered, we couldn't do it without you. It was one of our best years yet and we're delighted to reach so many people who don't know their numbers.
"With many of us living well into our 70s, 80s and 90s, we want these years to be healthy and happy for everyone. Thank you for helping us in our efforts to make it a reality."