Family rallies to raise awareness of high blood pressure
The family and friends of Jeff Heyes get active in their communities in his memory
Published: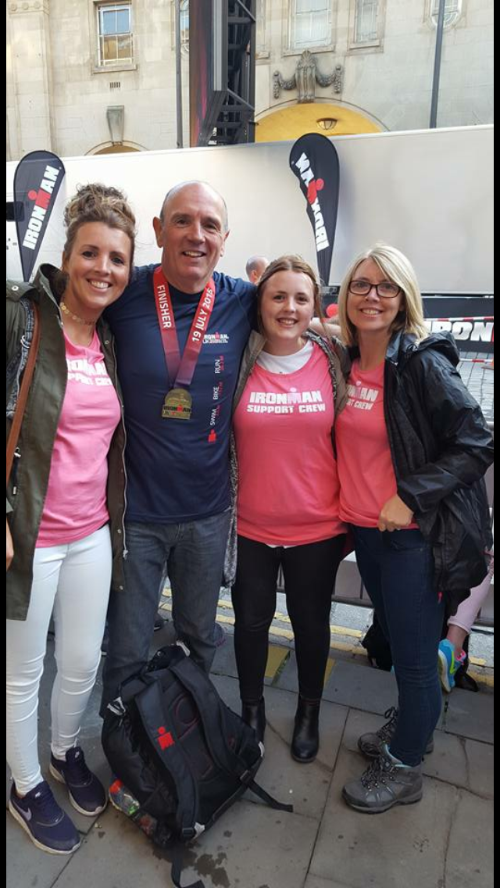 Jeff with his family after completing the Ironman challenge in 2015
The unexpected passing of a popular sportsman has seen his wife, family and friends go the extra mile in his memory. They've hosted sporting events to raise funds, brought blood pressure checks to local gyms and instigated new services in the local GP practice, aiming to save lives in their communities.
Jeff Heyes was an extraordinarily active man who loved to compete in triathlons – his medal collection is a sight to see. He was looking forward to developing his sports coaching and doing the sports he loved when he passed away in his sleep aged just 58 in February due to undiagnosed heart disease, just weeks after he retired. He raised thousands of pounds for charity over the years and his friends and family thought it only fitting to raise funds to beat high blood pressure and heart disease in his memory.
Donations from his funeral went to Blood Pressure UK and Heartbeat of Sport, but his family wanted to do more. They teamed up with friends and colleagues to take part in numerous cycling and running challenges, and his triathlon team , local gyms Lake District Bar Bell and ETL (Eat Train Live), and GLL at Workington Leisure Centre have all got involved.
They've raised thousands of pounds in total with a Goggins Challenge (where you run four miles every four hours for 48 hours), a mini sprint triathlon where his daughters Stephanie and Natalie crossed the finish line together, and a multi exercise day where the family joined in the spinathon and family fun run. Jeff's wife Margaret even organized for local pharmacists to advertise free blood pressure checks and all funds went to Blood Pressure UK and a local wellness programmes. Stephanie, Natalie and his Son-in-law Steven also competed in the Ullswater Triathlon on what would have been Jeff's 59th birthday in July.
Now, Margaret is working with local gyms to have BP checks introduced as part of their induction health checks. They have donated blood pressure monitors to Lake District Bar Bell, who will introduce blood pressure checks as part of their induction. ETL are introducing blood pressure monitoring and health MOT style checks for their members. GLL at Workington Leisure Centre are also introducing blood pressure into their health checks and recently joined Allerdale Borough Council for their staff wellness day, giving advice on healthy eating, exercise and blood pressure monitoring.
The family have also donated funds and blood pressure monitors to Fit 4 Life health and rehabilitation centre, who link with the NHS and take referrals for workshops specialising in chronic illnesses and aftercare. They have highly qualified instructors who are working with heathcare professionals to deliver rehabilitation programmes to the local community, especially those with long term conditions.
Margaret has also arranged for Workington Town RLFC to partner with Tri Lakeland to provide heart screening for the Triathlon club members. "The heart screening programme at Workington Town Rugby League Ground is the last of the events and initiatives we set out to do. Hopefully now that we have blood pressure awareness programmes as a standard part of gym inductions and monitoring programmes we can encourage other gyms in the wider area to do the same. I am hopeful too that heart screening will be part of an annual programme not only for Jeff's Tri Lakeland team, but also other sports groups locally. Workington RLFC have extended their offer of a screening programme to other sports clubs and individuals."
Margaret has also met with Jeff's GP and the practice has since begun contacting patients for a medicines review relating to high blood pressure, high cholesterol and heart disease, and a full health check. She is even working with Jeff's former work place to set up a programme of health checks for their 10,000 staff.
Blood Pressure UK says: "We are very grateful to Margaret and her family for channelling their energy into raising awareness of blood pressure monitoring – even among those who are very fit and active."


The organisers of the mini triathlon and the multi exercise day, from Tri Lakeland, GLL at Workington Leisure, ETL and Lake District Bar Bell. Margaret, Jeff's wife, says: "Without their support and commitment, we couldn't have achieved what we set out to: to raise awareness of blood pressure monitoring, bring blood pressure checks to gyms in the local area and to support chronic disease rehabilitation and health wellness in the local community as well as donations to Blood Pressure UK"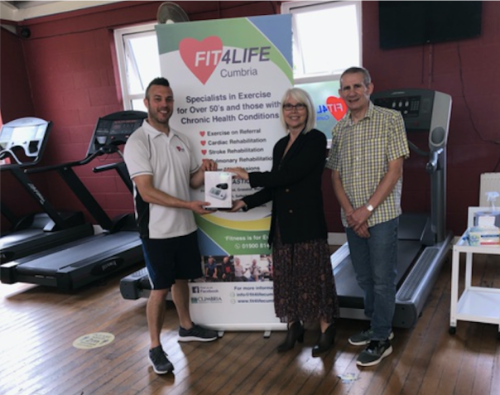 Margaret donating blood pressure monitors to Fit 4 Life health and rehabilitation Center. Dougie, the manager at Fit 4 Life says: "We are so grateful for the donation. The money will be used to continue growing our service so we can help as many people as possible with heart disease and other chronic health conditions to improve their health and fitness. We will also look to raise awareness of the importance of being aware of your health and will be using the new blood pressure monitor as part of this as well as at our upcoming open days at our centres in Maryport, Workington and Whitehaven, during which we will be carrying out health checks and Blood pressure monitoring."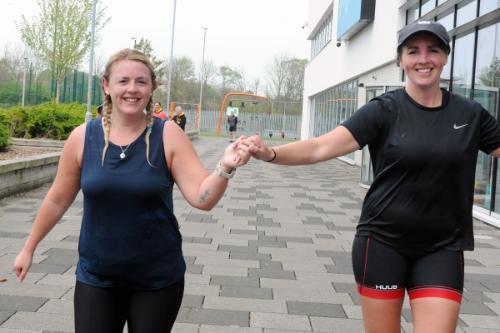 Stephanie and Natalie at their first ever triathlon, at the mini sprint triathlon organised by Tri Lakeland and GLL at Workington Leisure Centre in April.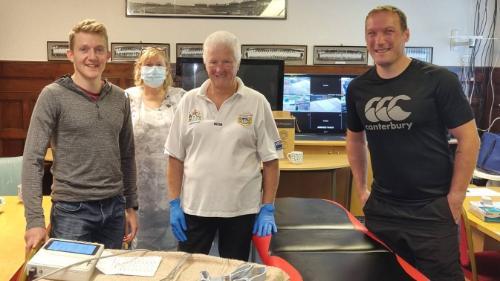 Workington Town RLFC partner with Tri Lakeland to provide heart screening for the Triathlon club members. Helen McDowell (second left) and Anne Wilson (centre) conducted the screening programme on behalf of Workington RLFC. Dr Joe Masters (far left), has given his time to interpret the results for the screening program to support the awareness campaign. As a member of the Tri Lakeland team, and having competed alongside Jeff, he is more than happy to support the awareness programme in any way he can. Richard Downey (far right) organised and competed in the Goggins Challenge raising money for Blood Pressure UK in Jeff's memory earlier this year.

The family would like to thank everyone from Workington RLFC and Tri Lakeland for organising the screening programme. Without their support and commitment this screening would not be possible.