Come on Colin!
Our marathon runner gets ready for the big day, even though he's 'not a natural'
Published: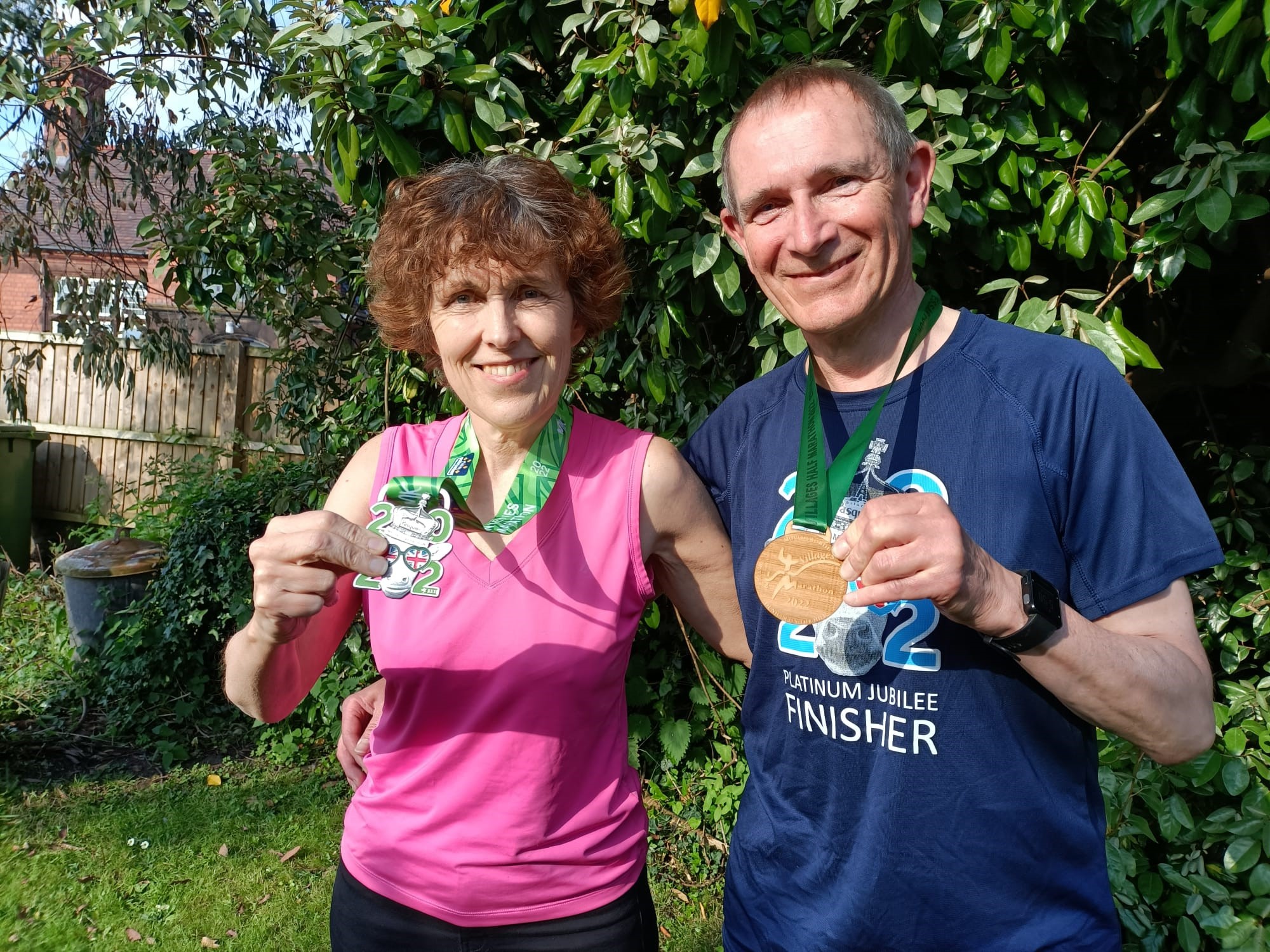 Colin Mair from Swindon is clocking up the miles in preparation for the TCS London Marathon this October, when he'll be donning his Blood Pressure UK T-shirt as our official charity runner for 2022.
Running alongside him will be his partner Kate, who won a 'good for age' place with her speedy completion time last year, and will also donate to us.
The pair are well known among friends as keen runners who regularly take part in half marathons, marathons and 30 mile plus walks. They have both just turned 60 and are as active now as they were in their 30s.
Colin was inspired to choose Blood Pressure UK because he was diagnosed with high blood pressure in his thirties by chance as part of a health check. He knows that without it he might have gone many years without realising he had a problem, by which time things could have been much more serious.
Since then he's kept his numbers under control with medication, diet and an energetic lifestyle and believes good health is the key to a happy life. Now, he wants blood pressure numbers to become something we all know like we know our height and weight.
We caught up with Colin about how he's getting on.
How's your training going?
It's good, and Kate's doing well too. I've had a big change recently because I've just retired! Part of my training was walking into work so I'll have to reorganise. It changes everything I do.
It's important to have regular activity so I do Parkrun every week, and I'm doing the Great North Run in September (a half marathon). I'm not a natural runner so the big runs are big challenges. We'll build up throughout August – it's a big month for building up endurance – then there will be three weeks before the marathon.
What draws you to these extreme challenges if you're not a natural?
I enjoy them! We're out in the fresh air, it's a challenge, it's great fun. They can be quite difficult and once you've completed them, you look back and realise it's quite an achievement. I think 'that was really good! I really enjoyed that'.
I enjoy the running and keeping fit, and being out in the open. It gives you time to look around and take in the surroundings.
I didn't take up running till I was 40, but before then I did plenty of activities – playing football till my early 30s, then I was a regular gym goer. I have always done a lot of walking.
Do you have any training tips?
Yes, don't do too much too early, just build up slowly. Do something regularly. Things like Parkrun and Couch to 5K are great places to start. That will bring you up to a level you're more comfortable with then there are plenty of clubs that put on races.
If you do too much too soon, you're liable to get injured and then you can't do anything. So start off slowly then pick it up when you're more at one with it.
The wonderful thing about running is it's non-restrictive. You can be any age, any gender. It's completely universal.
What types of food do you eat to support your training?
I try to eat a healthy diet. It's important to eat plenty of fruit and veg and I don't eat much meat and I try to stay away from the biscuits, which is hard – there's so much nice food around! I look at the packets so I know what's in the food I buy and keep away from salt and saturated fat, and I check the calories. Lots of restaurants have information on calories now which is really helpful. I do take note.
How do you get on with your blood pressure medicines?
I've been on them since I was 30. It all started when I went to buy a house. I had a medical and they looked at my blood pressure. It was high so they sent me to a doctor who prescribed medication. It took a while to find the right medicine but eventually they put me on Lisinopril, an ACE inhibitor, and I've been on it for about 25 years. I've had the occasional 24-hour check to see if I still need them and it's always shown that I do.
Every six months or so I have my blood pressure checked, and I have a monitor so I record my own at home. I have records going back to 2010. At the moment 125/77mmHg.
How's the fundraising going?
It's going really well, I've really concentrated on it. I was an electrical engineer and worked in semi-conductors (chips for computers). The company do a matched-funding scheme and before I left we raised £1500.
I talked about blood pressure with my work colleagues, promoting what it is and how to lower it. I'm sure the company are going to pick it up at work.
Where can people donate?
Phil Pyatt, CEO of Blood Pressure UK says: "We were blown away by Colin's application and can't wait to cheer Colin and Kate on in October."