Au revoir to Katharine and hello to our new CEO, Phil
After more than eight years, our CEO Katharine is stepping down and we are joined by our new CEO, Phil Pyatt. Hear from Katharine and Phil as they pass the torch.
Published:
After eight and half years at the helm, our much-appreciated CEO Katharine is stepping down. She's been a passionate-change maker, thoughtful team leader and an undisputed ideas machine. Her positive attitude combined with strategic campaigning and wealth of knowledge have doubtless changed many lives through better support for people with high blood pressure and their families.
Although none of us want to say goodbye, we're delighted to be joined by our new leader Phil Pyatt. Phil is former CEO of TimeBank, a charity which trains and recruits volunteers to deliver mentoring projects to tackle complex social problems, and before that was CEO of Action for Stammering Children. His working life prior to that includes directorial roles with a focus on giving back to communities, making small charities sustainable.
Professor Graham MacGregor CBE, Chairman of Blood Pressure UK has this to say:
"As many of you know, Katharine is relinquishing her role as Chief Executive to Blood Pressure UK. Over the last eight and half years she has done a fantastic job in rebuilding the charity. She has been a brilliant spokesperson and leader and I would like to thank her on all our behalves for the hard work and effort she's put in. She has been an inspiration. However, she's not leaving us completely as she will continue to work on getting salt intake down and solving the obesity crisis in the UK at Action on Salt and Sugar."
At the same time, I would like to welcome Phil who will be taking over as Chief Executive and I know that in his hands Blood Pressure UK will go from strength to strength."
Thank you from Katharine Jenner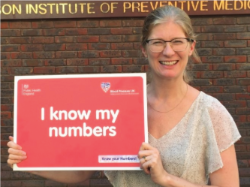 I wanted to take this opportunity to welcome Phil Pyatt to his new role as CEO, taking over from me after eight and a half rewarding years.
I am honoured to have been able to lead Blood Pressure UK for so long, and I am proud of my achievements over this time, from growing our loyal membership and supporters, reaching millions with our Know Your Numbers! campaigns, publishing new leaflets, guides and a new website, all of which I hope will stand the test of time and be useful resources for anyone with high blood pressure for years to come.

I have thoroughly enjoyed being able to speak with passion about the importance of blood pressure on stages around the country, from small community groups to Westminster roundtables, from university lecture halls to national conferences, and from radio phone ins to the BBC Breakfast news.

I'd like to thank the wonderful and hardworking team who have made my time here so enjoyable, and of course our valued Trustees and our Chair, Professor MacGregor, for their leadership and dedication.

And if you're wondering what will happen to me next? Well, I'm not moving far, in fact I don't even have to clear my desk! I shall be continuing as the full time Director of our sister charity Action on Salt and Sugar, so no doubt you will hear from me in the future, as I hopefully share news of further progress in efforts to reduce salt, fat and sugar to tackle cardiovascular disease and obesity.

Phil, over to you!
Hello from Phil Pyatt
I'm hugely excited to be joining the fantastic team at Blood Pressure UK in August as the new CEO, to continue the fantastic work of Katharine Jenner and the team in the months and years ahead.
The current Covid-19 pandemic has thrown up many challenges for all of us, and it's reported daily the impact this has had on other medical conditions that need urgent attention. With 16 million people in the UK with high blood pressure and one in three unaware they are one of them, there is a lot of work to do to positively impact the lives of people across the UK from different backgrounds with much needed awareness, advice and guidance.
None of this is possible without the support of our members, and I would like to take this opportunity to thank you all for continuing to support Blood Pressure UK. I'm excited to get started and looking forward to the challenge ahead in helping people to Know Their Numbers and the different ways to reduce blood pressure in their everyday lives so they can live long, fulfilling lives.