A massive thank you to everyone who braved the cold to run through Greenwhich Park dressed as Santa in the Santa 5k Fun Run in London.
Your bearded efforts have helped to fund our life-saving work. Here's just a few of those who took part.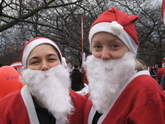 Fran raises £800
Fran O'Leary from Islington was joined by her friend Caroline Doidge from Stockport to run through Greenwich Park dressed as Santa.
Fran, 29, chose to run for us because she was recently diagnosed with high blood pressure: "When I was first diagnosed with high blood pressure I was really shocked as I was just 28, exercised regularly, ate well and I didn't smoke. I didn't realise that someone like me could have high blood pressure."

"Luckily for me I found the Blood Pressure Association [now Blood Pressure UK], which helped to answer the millions of questions I had and really reassured me. That's why I have chosen to support this charity.

"I want to thank everyone who has sponsored me. I've raised over £800, including a very generous donation from UPP, a London-based company which provides student accommodation."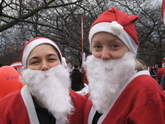 Coventry sisters raise £250 to celebrate a new lease of life
Zainab and Billie Khan from Coventry braved the winter weather in a fantastic effort to raise money for us – a cause very close to their hearts.
Zainab suffered a brain haemorrhage and chronic renal failure 12 years ago – complications of high blood pressure. She battled through 10 years of dialysis, receiving treatment four times a day, before receiving a kidney transplant at University Hospital Coventry in 2007.

Since her transplant, Zainab has had a new lease of life and has been determined to get fit and help others. "Many people are unaware that high blood pressure is a major risk factor for health problems such as kidney disease, so it's vital to raise awareness of the condition, and that's why I've chosen to support the Blood Pressure Association.
"I'm living proof that good health can prevail, and I make sure I look after my blood pressure with a well-balanced diet and lots of exercise.
"So far Billie and I have raised £250 and I'd like to thank everyone who has sponsored us, particularly Dr Edmunds' transplant team and the medical staff at the University Hospital Coventry."
A heart-felt thank you from us
We'd like to thank Fran, Caroline, Zainab and Billie for their support and congratulate them on the excellent achievement of running five kilometres in full Santa suits and beards!

Funds raised from events like this make a huge difference to the work we can do, helping us to offer advice and support to more people, preventing strokes and heart attacks.
Could you take on a challenge for Blood Pressure UK?
Make a donation to support all our lovely fundraisers.