Steven cycled through 50 European cities after recovering from a stroke, all while studying for not one, but two, degrees.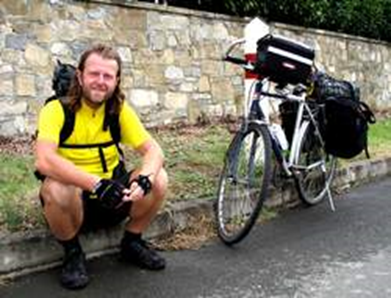 Steven was a full-time Open University student studying Maths and Physical Science when he decided to set off on a three-year jaunt across Europe:
"I'm hoping to visit by bike every European capital city whilst studying via netbook for a couple of degrees. Whether or not this is really possible, I think it'll be an interesting experiment."
Incredibly, Steven set off less than two years after a stroke caused by high blood pressure.
Steven's story
"In May 2009, I very nearly died as a result of a high blood pressure-induced brain haemorrhage. At the time, I was in training for a cycle ride from the Isle of Man to Spain, and began feeling queasy and had blurry vision. I had some tests and they discovered I'd had three brain bleeds as a result of high blood pressure – it was found to be 210/130mmHg. I had no idea."
That's why Steven chose Blood Pressure UK as his main charity to support. With his blood pressure controlled by medications, he planned his adventure around Europe from his home town on the Isle of Man, clocking up the miles to support our work whilst taking regular breaks for studying and exams.
"The only transport I intend to use on the trip apart from my bike is an occasional ferry, to and from Scandinavia, a hop from southern Italy to Greece and, obviously, to each of the islands."
"It seems like a massive adventure, but when you start breaking it down day-by-day it's not that big a deal.
"This life is short, and it can be snatched away at any given moment. Whatever it is you want to do, just do it. Don't hang around. Literally or metaphorically, get on your bike!"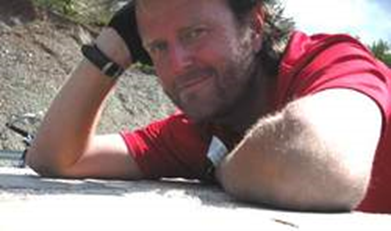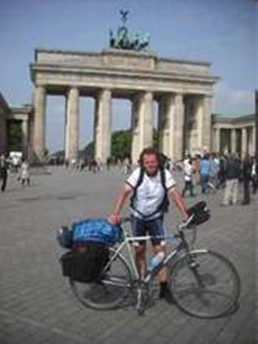 Six months in
"My trip has been simply amazing. So far I have cycled about 4,000 kilometres, visited 11 countries and their capitals, met lots of the Open University's European students and staff in Vienna, taken (and, I think, passed) an exam on planetary science, spoken bits of eight languages (don't be impressed by that – you didn't see the looks I've received), and eaten something very strange things, including lungs and spleen in Austria, a horsemeat-flavoured snack in the Netherlands, and a tripe and chitterlings sausage from France that famously tastes like sewage.
"During the first couple of months I had it easy. Cycling across northern France, Belguim, the Netherlands and northern Germany was either relatively flat or extremely flat. Things have certainly changed since I hit Austria. This week alone I've climbed three alpine passes, all higher than any mountain in England and two significantly higher than Ben Nevis.
"All this has been very good news for my blood pressure. I've already lost 15 kilos since I started. But the ride isn't going to get any easier from here. Switzerland, southern France, the Pyrenees and Spain are hardly without their hills and I suspect the rising temperatures will start to become an issue. I'll have to start cycling early in the morning, have a study break around midday for a few hours and then get back on the bike for more miles before bedtime.
"But however it pans out, it's going to be fantastic. The time is flying by. I can't believe that I'm halfway through my first year already."
He made it!
Not only did Steven complete his mammoth bike ride, he wrote a book about it.
"The ride was the best idea I'd ever had, but it didn't all go according to plan. I set off several kilos overweight. As the days went on, I got fitter and slimmer. As a result, my blood pressure pills – I set off with over a thousand in my panniers – became more effective.
"Even with my blood pressure problems I survived the trip, despite the best efforts of a particularly unobservant driver in Ukraine who was millimeters from wiping me out. I've even used the experience to write a book about my ride, No Place Like Home, Thank God, which includes my ordeal with hypertension."
And onto the next challenge
We were all bowled over when Steven first approached us with this incredible idea to raise funds for us, and now he's done it again! In 2016 Stephen set off on a spontaneous cycling challenge around Britain. His story of recovery and his efforts to save others from going through the struggles he has are inspiring. We can't say thank you enough.
You can support Steven through his JustGiving page.
Could you take on a challenge for Blood Pressure UK?