Our CEO's husband, JP, completed the marathon in an impressive 3 hours and 29 minutes, raising a whopping £2,385.00 for Blood Pressure UK.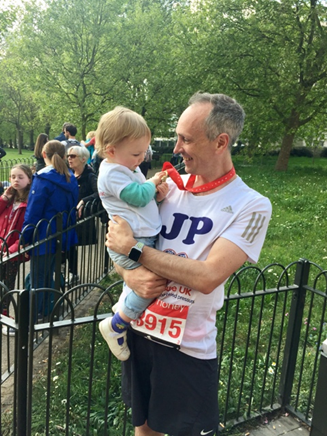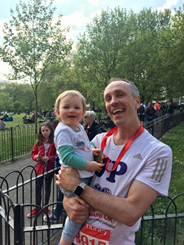 JP started training for the London Marathon 2017 the previous Autumn, motivated by the idea of helping to combat heart disease, raise awareness and save lives. He trained five times a week, combining sprint training to the sound of Guns 'n' Roses' Welcome to the Jungle, middle distance outings and one long run.
After a set-back a few weeks before the big day when he became ill during a half Marathon, he recovered to beat his time when he ran the Marathon back in 2008 – with a little support from Baby Sylvia. He told us:
"The last 3 miles were extremely hard work, a lot tougher than I thought it would be, even with all the training I did. It was an amazing atmosphere as I was going round though, after the race I felt like a bit of a hero with people congratulating me wherever I went across London.
"Thanks once again for giving me the opportunity to run, and I'm glad I was able to reach my target – I hope the money is useful towards the extremely valuable and worthy work you all do."
Thanks JP! We really appreciate the money you raised which will help us continue our search to find the missing millions living with high blood pressure and reduce their risk of stroke and heart attacks.
JP spoke to us for our magazine Positive Pressure while he was training for the big day about his preparations and motivations for taking part.
JP talks about his marathon bid [PDF 137KB]
See all our fundraisers and how you can get involved.